Today's Top Real Estate News
Provided by RISMedia News
8/6/2020 10:59:09 PM
Creative Ways to Use That Spare Bedroom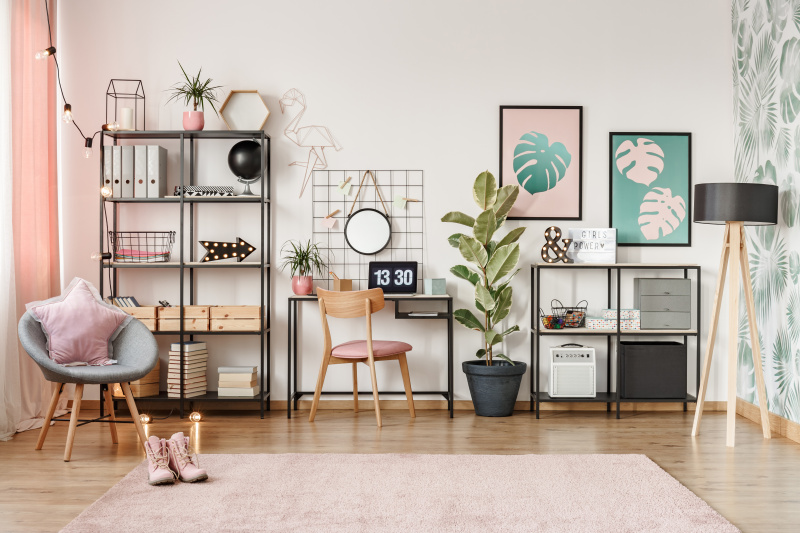 If you're lucky enough to have a spare bedroom, you may want to think of it less as a rarely used landing spot for guests or a place to store extra 'stuff,' and more as a blank canvas - a pleasant spot you can use for rest, relaxation, hobbies or exercise, or even as a money-making option.

Consider these inspiring ideas from room designers and creative thinkers:
Get crafty - Do you sew occasionally? Like to draw or paint? Love to do amazing gift-wraps? Fill the room with smart choices of furnishings, storage, tables and accessories to make your hobby more fun than ever.
Make it personal - Turn the room into a ma'am- or man-cave, with comfy furnishings, a TV and sound system and anything else you need to make it a cozy, personal retreat.
Make it a study - Create a cheerful home office space where you or your kids can pay bills, read online or study without interruption. Install a work counter/desk across one wall, add enough chairs and supply drawers, plus computers and printers as needed.
Build your own library - Book lovers can line the walls with shelving, collect books to their heart's content, install a chair or two and some great reading light, and revel in a private library.
Make music - For parents and/or kids with a passion for making music, lay down thick carpeting to soak up sound, add a few comfy floor cushions for musically inclined visitors and make room to jam with friends or solo with as many instruments as you wish.
Start a garden - Wish you had a greenhouse? You can cultivate seedlings in that spare room from the waning days of winter through early spring. Buy ready-made shelving and add light fixtures and supplies appropriate for nurturing baby plants.
Sweat it out - Whether you practice yoga, run or do strength training, you'll be more motivated, better disciplined and more excited about your workouts in a dedicated exercise space. Drag that treadmill out of the basement, add all the exercise equipment you want and go!
Airbnb it - Make a few extra bucks by renting out your guest room through Airbnb. Outfit the space with attractive towels, linens and toiletries, and make sure your home's Wi-Fi password is prominently displayed.
Published with permission from RISMedia.
Reasons You Should Microchip Your Pet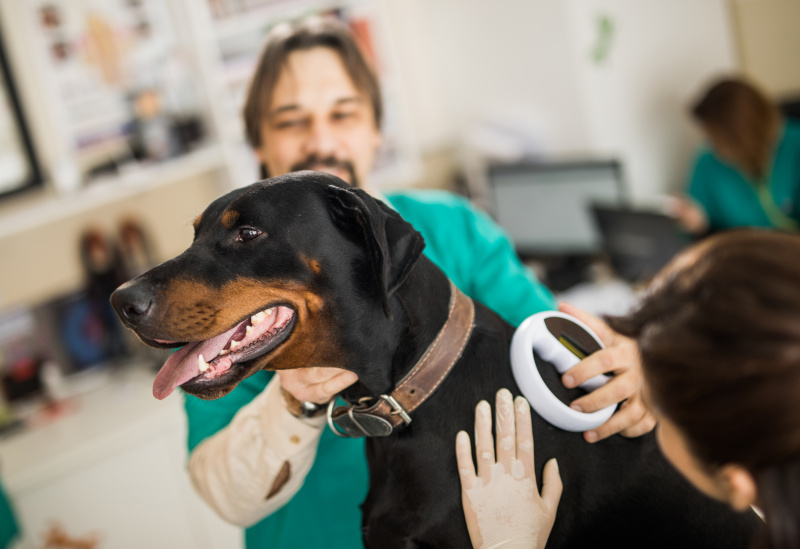 Millions of pets go missing each year, and many are never reunited with their owners. If your pet has a collar and a tag engraved with its name and your contact information, the tag may become damaged and difficult to read, or the collar may fall off or be removed, making it impossible for someone who might find your pet to contact you. Microchipping is a simple solution.

How Does Microchipping Work?
A microchip is an electronic chip around the size of a grain of rice that is enclosed in a glass cylinder. A veterinarian can insert a microchip under a pet's skin using a hypodermic needle that is a bit larger than a needle used for an injection. The process can be performed at a routine office visit, doesn't cause any more pain than a typical injection and doesn't require anesthesia.

Each microchip has a registration number and each manufacturer has a database that stores pet owners' contact information. Some manufacturers also let owners include pets' medical information. A microchip doesn't contain a GPS and can't track a pet's location.

If your pet gets lost and someone finds it and takes it to a veterinary office or animal shelter, an employee can scan the animal. When a scanner passes over the area where the microchip is located, the scanner emits radio waves that activate the chip, and the chip transmits its identification number to the scanner. The employee can then access your contact information and notify you that your pet has been found. If you get your pet microchipped, be sure to complete the registration and keep your contact information up to date.

Most veterinary offices and animal shelters have handheld readers that can scan microchips, but several systems are used and they work at different frequencies. The International Standards Organization has recommended a global standard. You'll have the best chance of being reunited with a lost pet if you choose an ISO microchip.

Is There a Risk to Microchipping?
A small number of pets have experienced adverse reactions to microchips, such as swelling, infection and hair loss. A handful have developed tumors, but in many of those cases it wasn't clear that the microchip was the cause.

Sometimes a microchip migrates away from the site where it was implanted, which can make it difficult to read. When you take your pet to the veterinarian for routine exams, ask an employee to scan the microchip to make sure it can be detected.

Talk to Your Veterinarian
Losing a pet and not knowing what happened to it can be devastating for anyone, but particularly for children. A microchip can dramatically increase the odds of being reunited with your pet. Since a microchip is inserted under the skin, it can't be lost or separated from the pet, so the animal will always be identifiable. The cost is relatively low compared to the potential emotional effects of losing your four-legged friend. If your pet hasn't been microchipped, discuss it with your veterinarian.

Published with permission from RISMedia.
Pros and Cons of Having Your Kids Sleep in Bunk Beds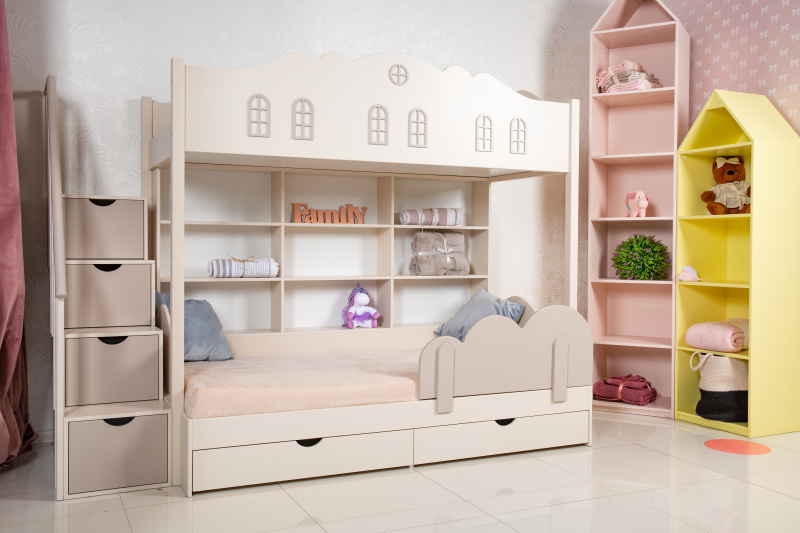 If your house has limited space, your kids may have to share a room. Bunk beds can help you make the best use of available space and give your family options in the future, but there are possible problems to take into consideration.

More Space for Play and Storage
Young children need lots of space to play, as well as room for a toy box, shelves and dressers. With two single beds taking up valuable floor space, the rest of the room can feel cramped. With bunk beds, you could maximize the use of vertical space and make the entire room feel bigger. In addition, many bunk bed designs feature built-in drawers and shelves where kids can arrange their belongings.

Privacy and Independence
For kids who share a bedroom, privacy can be hard to come by. With bunk beds, each child will have an individual space to read, do homework, write, draw or sleep. If your kids have different sleeping schedules, the overhead light can be off, and one child can use a clip-on lamp.

Sleeping Options
If you have one child who invites friends to sleepovers or a young relative often comes to visit, a guest can sleep on a bunk bed instead of on a couch or an air mattress. Some bunk beds have a built-in trundle bed that can be stored underneath and pulled out if a third bed is needed.

Many bunk beds are designed so they can be separated. If you move to a larger house or build an addition with another bedroom in the future, you won't have to buy your kids separate twin beds.

Safety
Parents often worry about the possibility of a child falling from a bunk bed. Rolling out of bed while sleeping shouldn't be an issue as long as the top bunk has railings on each side, and they are undamaged and securely attached.

Falling while climbing the ladder is a more likely possibility. The child on the top bunk should be at least 6 years old and must be able to safely climb up and down. Regularly check the ladder to make sure it's secure. Explain to your kids that horsing around on the bunk beds is dangerous and not allowed. Strictly enforce that rule.

Other Potential Problems
Making the bed on the top bunk can be tricky. You may need to help until the child who sleeps on top gets the hang of it.

Some kids feel claustrophobic when they start sleeping on a bottom bunk. If your child is uncomfortable, consider moving the bunk beds away from walls so there is open space on all sides.

Are Bunk Beds Right for Your Family?
Bunk beds can give your kids more room to play, privacy and independence, but they can be dangerous if not used correctly. If you're considering buying bunk beds, ask yourself if your kids are old enough and, if so, have a clear and direct conversation about rules and safety.

Published with permission from RISMedia.
Toy Storage Ideas to Maximize Space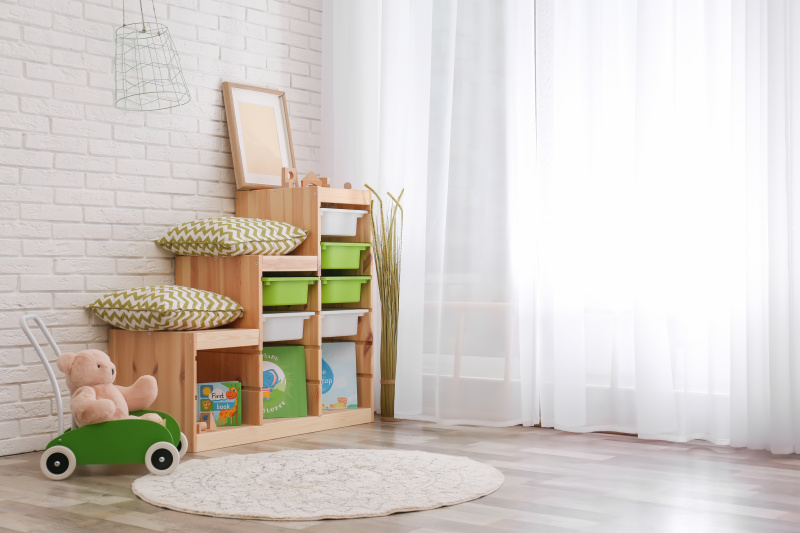 It never seems to fail that kids acquire more toys than parents can keep up with. While it can be good to cull through toys once-in-a-while to prevent against excess that causes clutter, there is a lot to be said for good toy storage practices. Great toy storage solutions can ensure that your children can access their favorite toys without creating a mess too big for them to handle. These savvy solutions may be just what your home--and your children--need to keep toys and books cared for and contained.

Pegboard Organizer
Keeping toys out of the way but still easy to access is always a challenge. Pegboards are the perfect solution to this issue. Toys can be in view at all times but hung up utilizing vertical space. This is an excellent solution for kids of any age, since it's so easy to put items back after use. Hang up nerf guns and swords, badminton rackets, art supplies and more!

Picture Ledges
Not just for pictures, these slim shelves serve as the perfect option to display illustrated children's books. Lean books against the wall on the shelf to make them accessible for the youngest members of your household while adding a whimsical and artistic display to any bedroom or toy room.

Multi-Use Cubby Shelves
Cubby shelves are go-to options for toy storage for many households. Far superior to the traditional toy box, they allow toys to be grouped with like items. This means your child won't take out every toy they own to get to the last piece of their favorite set that happens to be sitting at the bottom of the toy bin. Cubby shelves with multiple uses are even more ideal than their predecessors. Cubby shelf benches are perfect for walkways, toy rooms and bedrooms, and desk options are ideal for school-aged children.

Lidded Rope or Jute Baskets
Lidded baskets are an excellent way to keep your child's favorite toys in living areas without losing an adult aesthetic. Rope or jute baskets have a modern and minimalist style that heightens any room (even if the baskets are secretly housing your children's collection of stuffed animals).

Toy storage is a challenge that most parents must navigate in some way. These toy storage options can help you maximize your space and keep your home organized, all without sacrificing fun in the process.

Published with permission from RISMedia.
New Food Trends Can Save Time and Money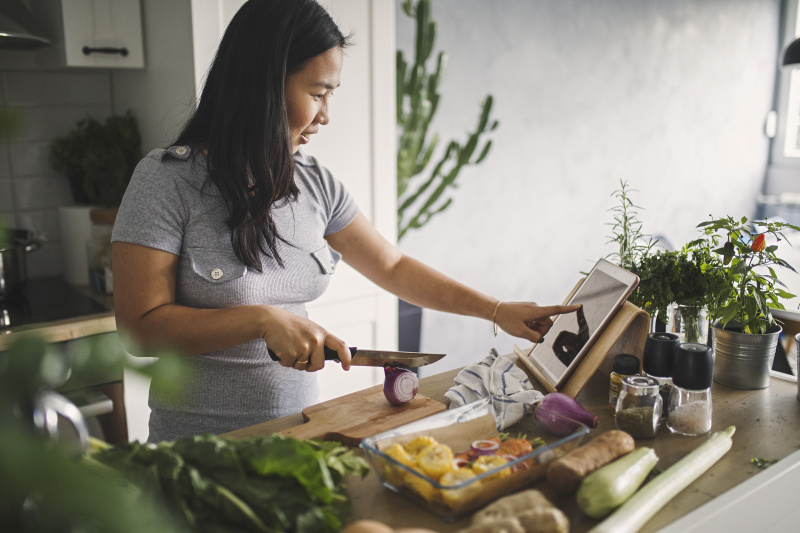 (Family Features) As families continue to adjust their meal routines amidst a worldwide pandemic, there are trends you and your loved ones can follow to improve your general health, maintain a budget and spend more time together.

Home cooking: According to a study conducted by Hunter Public Relations on how COVID-19 has changed home cooking, 54% of Americans are cooking more and 50% have more confidence in the kitchen. Many, perhaps for the first time, found that cooking at home and learning cooking techniques could be a fun family activity.

Trusting frozen: Frozen foods have seen a renaissance in 2020. Many families discovered that new technologies allow frozen foods to deliver innovations in flavors, recipes, authenticity and affordability without compromising taste. For example, Aqua Star's frozen Cutting Board Meal Kits are available at grocers nationwide and feature full chef-inspired meals like Chipotle Shrimp Street Tacos and Southwest Chili-Lime Tilapia.

Saving money: It's common knowledge for many consumers that eating at or ordering takeout from a restaurant is more expensive than cooking at home. Eating at home showed families just how much they could save, and this trend is likely to continue. According to a Simon-Kucher Restaurants Survey, 26% of consumers who ate meals from casual restaurants before the pandemic anticipate eating meals primarily at home for up to a year after lockdown.

More seafood: According to a national survey by Aqua Star, one of the country's largest seafood companies, 75% of Americans want to eat more seafood. Seafood provides nutritional benefits for a multitude of recipes, but many people don't know how to prepare it. One of the easiest ways to introduce your family to seafood is through familiar comfort food recipes and convenient one-pan meals.

Online grocery shopping: Nearly daily trips to the grocery store can be an expensive habit since impulse buying is a bane to healthy eating and saving money. As online grocery shopping grows in popularity, it provides families with a convenient, time-saving way to keep must-haves on hand without overspending at the store.

Dinners with family: After years of families grabbing meals on the run, sheltering in place has brought many back to the dining room table. For a simple family meal that focuses on frozen seafood and pantry staples, try this recipe for Shrimp Scampi that involves just a few steps of preparation that can even allow kids to help in the process. If you don't have time to cook, Aqua Star's Shrimp Scampi MicroSteam Bowl is a simple way to enjoy the same flavors in minutes, from the microwave, with no clean-up required.

Find more at-home seafood solutions at aquastar.com.

Shrimp Scampi
Cook time: 20 minutes
Servings: 4
8 ounces pasta linguine
2 tablespoons butter
2 tablespoons extra-virgin olive oil
4 garlic cloves, minced
1/2 cup dry white wine or seafood broth
3/4 teaspoon kosher salt
1 dash crushed red pepper flakes
1/4 teaspoon black pepper
1 1/2 pounds large or extra-large Aqua Star shrimp, shelled
1/3 cup parsley, chopped
1/2 lemon, juice only

Cook pasta according to package directions.

In a large skillet, melt butter and oil. Add garlic and saute until fragrant. Add wine or broth, salt, red pepper flakes and black pepper. Bring to simmer and reduce by half.

Add shrimp and saute until shrimp turn pink and opaque, approximately 2-4 minutes depending on size. Stir in parsley, lemon juice and cooked pasta.

Published with permission from RISMedia.
Quick Tips to Make Your Room Look Bigger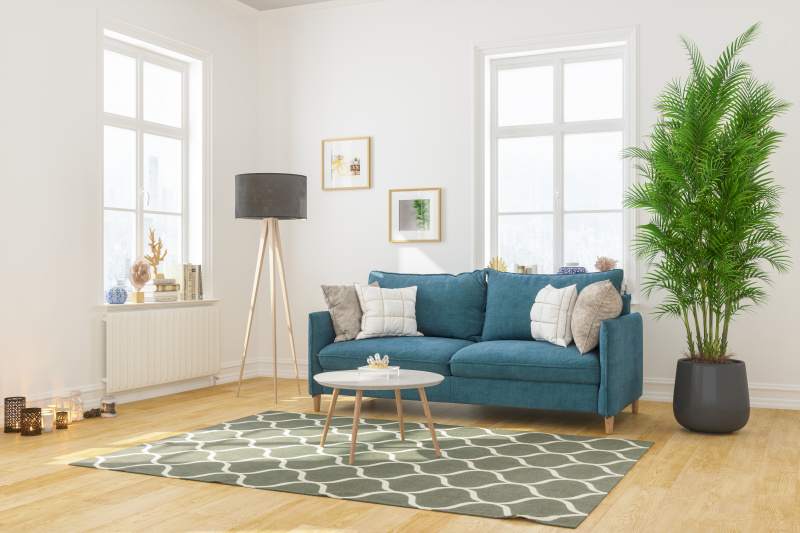 Small spaces have their own charm and challenges, but every home--regardless of size--can benefit from visually adding space. Thankfully, there are a few key tricks to making your rooms look bigger that are easy to implement.

Scale Down
This may be obvious, but a massive couch will swallow a small room. If your room is small, or you would simply like to maximize your empty space, opt for smaller furniture and even smaller art. Keep everything appropriate for the scale of the room.

Use Vertical Space
Keep your floor uncluttered by using vertical space instead. Opt against horizontal storage options like large trunks or long dressers. Strategically staged tall bookcases and tall dressers can serve to house items without compromising your floor space

Go for Minimalist Style
Too many items in a small room looks cluttered, even if it's organized. Lean towards a minimalist aesthetic to ensure that you are not visually cramping your space.

Bring in the Light
A well-lit room feels airy and spacious even if it's small. Avoid light-blocking curtains and blinds whenever possible and try to keep the room bright. For the evenings, add track lighting, recessed lighting or more lamps to keep the space looking roomy and inviting.

Go for Sleek Furniture
Clunky and bulky furniture of the past should be avoided in a small space. Instead, seek out the sleek look of mid-century modern furniture. This style works very well in a small space because it's elongating lines elevate the room and the furniture itself takes up less square footage.

Keep Your Color Scheme Minimal
Bright and dazzling colors have their place, but that may not be in your small room. Light, softer hues work better to keep a room looking spacious and airy and a monochromatic color scheme keeps your space from looking too visually stimulating and cluttered.

Preventing a cluttered and claustrophobic feel should be the goal in any sized room. And while adding extra square footage may be a task for your next renovation project, there are easy ways you can make your room look bigger in the meantime.

Published with permission from RISMedia.
Hot Drink Ideas to Break Your Coffee Addiction
If you are looking to lower your caffeine, or simply minimize your coffee intake, there are thankfully some delicious warming options. Break your coffee addiction little-by-little by replacing your morning brew with one of these tasty hot drink options.

Chai Tea
This cafe favorite may seem fancy and complicated, but with a little hot water, the right tea packet and a milk of your choice, you can make this surprisingly simple drink. With warming spices and a creamy taste from the milk, you will wonder why you didn't make the switch sooner. Sweeten it with sugar, maple syrup or stevia for a flavor boost.

Vegan Golden Milk
Golden milk is a traditionally Indian drink made from hot milk and ground turmeric, but it has been gaining popularity for its flavor and its health benefits. The golden-hued turmeric for which the drink is named, offers a host of benefits including anti-inflammatory properties. Any type of milk can be used, but for a creamy flavor try canned coconut milk, a dash of fresh cinnamon, a teaspoon or two of ground turmeric and maple syrup to taste. Whisk it all together in a saucepan and gently heat it up. You'll love the flavor and the health benefits of this drink on a cold afternoon.

Hot Cocoa
If you are looking for something a little less caffeinated than your typical mocha, but you are still craving that creamy chocolate flavor, cut out the middleman and make your own decadent hot cocoa from scratch. Far better than the watery packets from your childhood, a little half & half with milk serves as an indulgent base for this drink option. Mix a heaping scoop of cocoa powder, confectioners' sugar and a dash of salt together. Whisk it carefully into your simmering base. Finally, add a drop of vanilla extract or some cinnamon to lift the flavor. The comforting taste will have you coming back for more.

There's nothing like a warm drink on a chilly day, but there's no doubt that you don't have to reach for coffee every time. If you are looking to break your coffee addiction, look no further than these hot drink replacements.

Published with permission from RISMedia.
Hygge Home Ideas Your Family Will Adore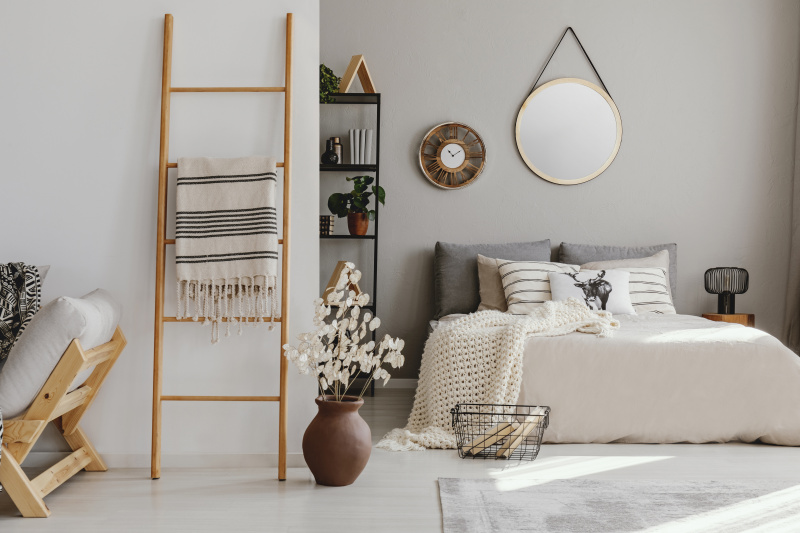 In the last few years, especially as the colder seasons approach, you've probably heard the word hygge (pronounced hoo-gah). Hygge is the Scandinavian word for cozy, but it is also a way of life and design mantra. The idea is to elevate your decor to create a warm atmosphere and a place to enjoy life's little moments. If you are ready to embrace a cozy hygge ambiance in your home this year, these ideas are perfect for the whole family.

Create a Meeting Space
The hygge home is centered around community. It welcomes guests to sit and chat and encourages household members to take a moment to focus on each other. You don't have to have a 70's-style conversation pit to evoke a meeting space in your home. Simply arrange furniture in a way that promotes conversation. This means avoiding centering your furniture around electronics. Don't worry, you don't have to ditch your tv altogether, but instead consider hiding your tv to further contribute to a hygge mentality.

Add Soft Textures
Make your space warm and inviting by adding soft textures throughout your home. Faux furs, sheepskins and chunky soft knits are the epitome of hygge. The hygge home is full of comforting items that sooth and ward of winter's chill.

Address the Lighting
Since the Danes experience long winters, they know the value of embracing the sunlight when it's available. A truly hygge design leaves your space bright and inviting. Avoid heavy light-blocking curtains or unsightly blinds. Opt for sheer white curtains to bring in the daylight. In the evening, avoid fluorescent lights to illuminate a large space. Instead, choose warm lighting options in divided pockets across your home or room. Encourage intimacy and comfort by eliminating harsh or sterile lighting options. Candles and fireplaces (though not always practical for every room) is the perfect example of hygge lighting.

In design terms, hygge may refer to textured throws, fire, candlelight and unfiltered daylight, but true Hygge decor goes far beyond simple aesthetic. Beautification is simply a means to an end. The real goal of a hygge home is to enjoy and embrace each day and those around you. This is a design goal everyone in the family will appreciate.

Published with permission from RISMedia.
Is Flipping Houses Worth the Time and Effort?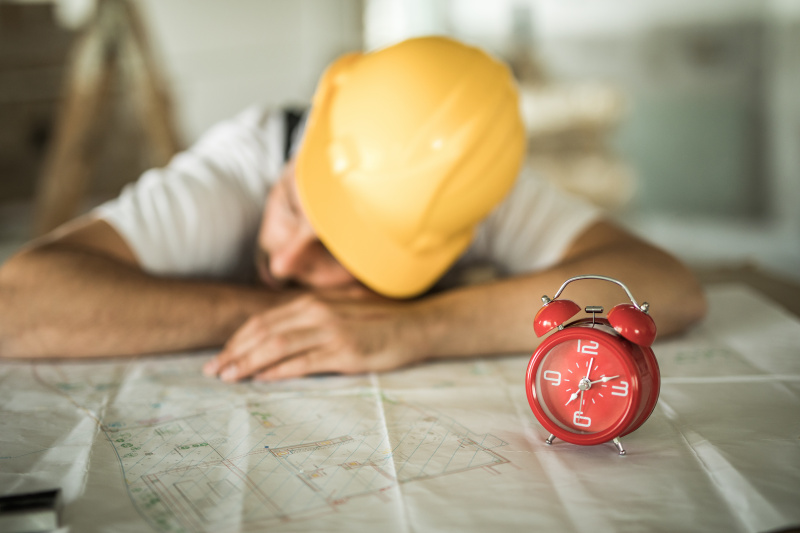 Flipping a house can be extremely profitable, or it can be disastrous. To buy a house, make improvements and sell it at a profit, you must choose the right property and make the right renovations. It's easy to make costly mistakes, so getting professional advice is crucial.

Choose the Right House
You don't want to find a house that you think you can flip and earn a profit on, then wind up overwhelmed by the costs. Have a house inspected before you buy so you'll know how much work it needs. A real estate agent with a thorough understanding of the local market can help you get a good deal on a house to renovate and resell.

Make the Right Upgrades
If a house needs major repairs to make it safe or inhabitable, such as a new roof or plumbing or electrical work, you'll have to make those improvements, and they can be expensive. That means you might not have much room left in your budget for other projects.

Flippers often spend so much money on improvements that they earn little or no profit. Redoing the kitchen and bathrooms can cost a lot but may not add nearly as much to the sale price. Less expensive improvements can lead to a higher profit margin. Also, fixing up a house too much can make it worth significantly more than the rest in the neighborhood, and you may wind up struggling to sell it.

Be Realistic About Costs
Figure out your budget in advance. Be realistic, and keep in mind that renovation projects often go over budget or get delayed and that workers frequently find additional problems after work begins. Also consider the cost of utilities while you're working on the house, as well as real estate taxes.

If you pay contractors, that'll reduce your potential profit. You'll also have to spend time communicating with them and supervising the work.

If you have construction experience, you may be able to make some or all of the repairs yourself. That can keep costs down and maximize your profit, but it may extend the amount of time required to flip the house if you're also working full time.

Avoid Taking on Debt
Borrowing money to finance improvements can make things even riskier. You'll have to pay interest on a loan, which can eat into your profit margin. If you're struggling to make loan payments, you may be forced to sell the house for a low price and barely break even. If you pay with cash, you may be able to wait longer for housing prices to rise and make more of a profit.

Do Your Research and Get Expert Guidance
Flipping houses can be lucrative, provided you make a series of smart decisions. Ask a real estate agent for help choosing a house to flip, get it inspected, set a budget, and be realistic about the amount of time and money required and your potential profits.

Published with permission from RISMedia.
Healthy Food Substitutions for Your Home Baking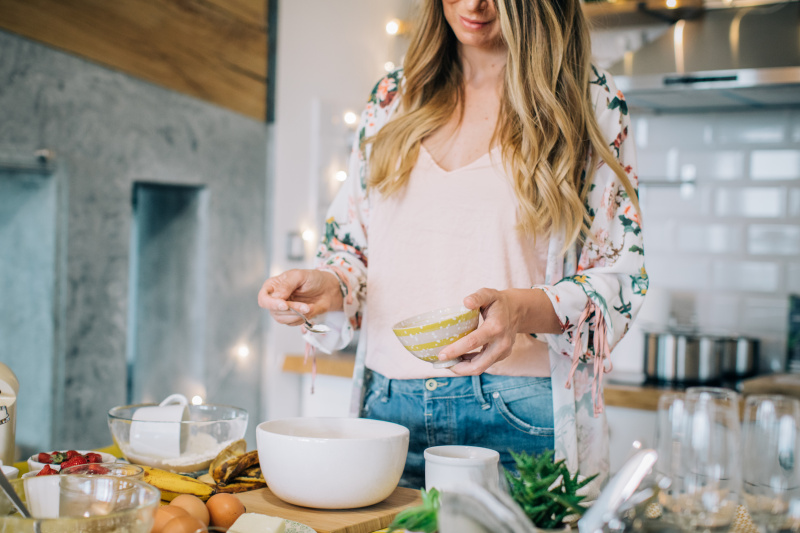 Anytime is the perfect time to enjoy a warm home baked dessert. Between birthdays, holidays and the days in between, there is little doubt you will find yourself indulging throughout the year. If you want to make more healthy choices without sacrificing your baked goods, try these helpful substitutions.

Applesauce for Oil or Butter
This may come as a surprise, but many treats can easily be low fat if you opt to use applesauce in place of oil or butter. This works very well in sweet breads or muffins. Applesauce adds moisture and gives the right consistency without all the fat of oil or butter. This swap is ideal for zucchini bread, banana breads and the like, but can still work well with boxed cakes or brownies.

Pure Maple Syrup for Sugar
Pure maple syrup may still be calorically dense like its traditional baking counterpart, but it comes with a host of benefits that refined sugar can't match. Maple syrup is high in antioxidants and contains nutrients like riboflavin, zinc, magnesium, calcium and potassium. It can be used as a 1:1 replacement for liquid sweeteners like honey, corn syrup and molasses. This is also true for sugar, but you will need to reduce your liquids throughout the rest of your recipe since you are replacing a dry ingredient.

Avocado for Butter
If you would like to replace butter for a vegan option, avocado is an excellent choice. Full of healthy fats and a creamy flavor, avocado works perfectly in chocolate puddings or fudgy brownies. You may detect a mild avocado flavor that works well with a chocolate base. Avocado is an excellent way to elevate your dessert's flavor profile while giving you some amazing health benefits.

Prunes for Sugar
Sweet baked goods are a family favorite. But if you are hoping to lower your sugar intake this season, consider ditching the sugar and opting for prunes. A surprisingly tasty option, prunes' sugar content is mitigated by naturally occurring fiber, making it a better choice for your overall health. Pureed prunes serve as an excellent sugar replacement in fruit pies, energy bars and muffins or breads. Just remember that their naturally sweet flavor can be overpowering if mixed with too many sweet items.

Keep your health a priority while still satisfying your affinity for baking this year. With these substitutions, your baking will be healthier than ever and your taste buds none-the-wiser.

Published with permission from RISMedia.